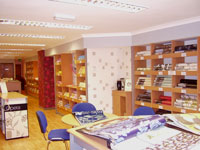 Established in 1966 Decoron is an award winning family owned and run decorating store dedicated to both the diy and professional decorator and is renowned for offering quality, choice, value and service.
Decorating a room is a relatively easy and cost effective way of transforming the look of any room, whether you are painting or wallpapering great results can be achieved. As a specialist decorating store, established over 50 years, we have a thorough understanding of the latest trends and styles that consumers are looking for.
Please feel free to visit our store and understand why we were voted Britain's Best Décor Retailer, with two floors dedicated to home décor you can browse at your leisure and be inspired by our displays and the vast range of products on offer. The range of wallpapers and paints we stock let you create your chosen look. In addition, our range of brushes, tools and associated sundry products help you achieve a professional finish to your finished scheme.
We pride ourselves on the quality of our staff. Their enthusiasm, product knowledge, ability to advise on any aspect of decorating, friendliness and commitment to excellent customer service are an example of the many factors which set us apart from our competitors. As a family run business there is always a family member available to give help and advice on any aspect of decorating that may be required, assuring customers of real personal service.
Visit Britain's Best décor Retailer for all your decorating needs, our store at 466-468, High Street (Carters Green), West Bromwich. West Midlands is easily accessed from surrounding towns and is less than 2 miles from junction 1 of the M5 motorway. Click here for a map of how to find us.